11. What Site Class is assumed by the geologists when they create the maps for Ss and S1?
(a) Site Class A
(b) Site Class B
(c) Site Class C
(d) No Site Class needs to be assumed
12. A one-story building in Seismic Design Category D is shown in Figure (a) below. When the equivalent lateral force is applied it deforms as shown in Figure (b).
​

Which of the following are true?
(a) The design forces shall be increased 25% for diaphragm connections, collectors, and collector connections (except when the overstrength factor has already been applied)
(b) The equivalent lateral force procedure cannot be used for design
(c) Both (a) and (b)
(d) The building has no penalties for irregularities
13. The forces shown below are the diaphragm design force, Fp, distributed in proportion to the mass. The diaphragm is flexible.
​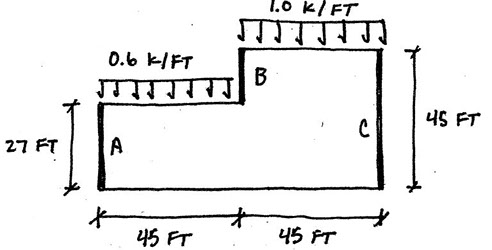 What is the maximum diaphragm shear (in plf)?
(a) 500 plf
(b) 800 plf
(c) 1330 plf
(d) 1500 plf
14. Locate the center of mass relative to the datum.
​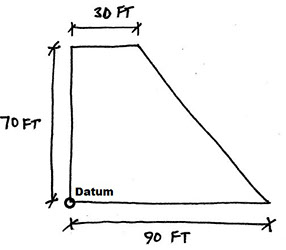 (a) x-bar = 45 ft, y-bar = 35 ft
(b) x-bar = 29.2 ft, y-bar = 32.5 ft
(c) x-bar = 25 ft, y-bar = 27 ft
(d) x-bar = 32.5 ft, y-bar = 29.2 ft
15. Which of the following is not true about backing bars in steel moment frame connections?
(a) They were left in place in connections built in the 1970s and 1980s.
(b) They can be removed.
(c) They can act as a fracture trigger.
(d) They are designed to assist in transferring loads between the beam and column.
16. Wall A and Wall B are cantilever concrete walls with the same thickness. The distributed shear force, v, is 1 k/ft.
​

What is the shear force in Wall A?
(a) 12.7 kips
(b) 14.6 kips
(c) 23.5 kips
(d) 34.3 kips
17. A site has Ss=0.75g and S1=0.35g. The average shear wave velocity in the top 100 ft of soil is 2000 ft/s. What is SM1 for the site?
(a) 0.47 g
(b) 0.51 g
(c) 0.58 g
(d) 0.64 g
18. A one-story retail building (30 ft tall) will be built on a site with SDS=0.2g, SD1=0.1g, and Site Class D.
Which of the following seismic force-resisting systems can be used?
(a) Ordinary reinforced concrete shear walls
(b) Special reinforced masonry walls
(c) Ordinary reinforced masonry shear walls
(d) All of the above
19. Is the layout shown below permissible if the diaphragm is rigid?
​

(a) Yes, because rigid diaphragms can cantilever.
(b) No, because at least two walls are required in each direction of loading.
(c) No, because rigid diaphragms require interior walls or frames.
(d) No, because rigid diaphragms cannot be used with shear walls.
20. A 2-story office building has steel eccentrically braced frames for the seismic force-resisting system. Each story is 13 ft tall.
What is the story drift limit for the building?
a) There is no story drift limit for this type of building.
b) 2.1 inches
c) 3.9 inches
d) 7.8 inches